musical chameleon like david bowie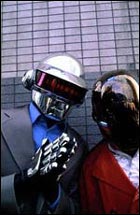 daft punk - human after all
get on the dance floor. no, seriously. with vocoder harmonies and riffs this good a robotic dance move is not only going to look good, it's required. the titular track of the new album, this song zones alien headquarters into stereos. hopefully this one gets a video on par with digital love.
decemberists - sporting life

coming from the 05 release picaresque, this ranks among the strongest pop track tracks these pirates have released. up there with billy liar, lost angelos i'm yours, and of course july july. if new to the decemberists, it may take some time to wrap your head around colin meloy's vocabulary. did i mention that live shows have crazy accordion solos?